Today I decided to do a special Halloween post just because tomorrow is the first Halloween in a while that lands exactly on Saturday which means lots of weddings! Also, because have you noticed something strange? We got a blog re-vamp and it looks great thanks to Ellie of RainyDayDesigns!
Our website re-launch giveaways end tomorrow, but this re-vamp deserves a totally new giveaway huh? I'll see what I can set up!
In the spirit of Halloween, if I were to have my wedding tomorrow, October 31st and embrace the Halloween theme, which personally I don't think I would – these next couple of things would definitely have to be a part of it!
Have you guys seen my actual cake topper? This was it:

If I was really into this whole theme, I wouldn't say no to this awesome cake!
I like sugar skulls. The skulls and skeletons, makes it Halloween-themed but it's also decoration used for Dia de Los Muertos a.k.a. Day of the Dead or All Saints' Day. Wouldn't these go well with the cake?
Via Houston Banquet Planner
I'm not sure how I feel about these centerpieces but it would defintely work with a vintage masqueradee wedding!
Via The Haunted Yard
Besides the usual trick-or-treating, who wouldn't want more goodies with a candy/dessert buffet like this when it has been made by the most sweet Amy Atlas!
Have any out of town guests?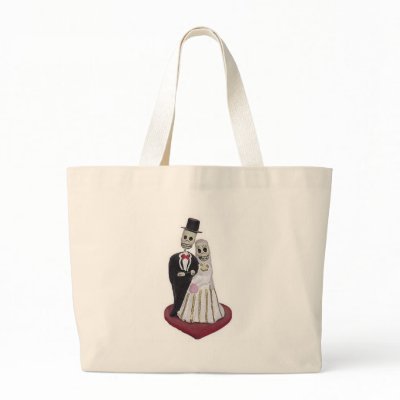 Via Zazzle
I think I'm starting to like this! From my romantic Halloween inspiration board yesterday to my full on Dia de los Muertos masquerade wedding, both can be rocked beautifully!